Best Budget Kitchen Knives – Under 100$
We here at Best Knife Set understand that times are tough right now for a lot of people. We've seen sales on the larger, more expensive cutlery drop off dramatically this holiday season. For this reason, we've decided to write an article on the best budget knives available this year. Every single knife set on this list clocks in at under a hundred dollars and a couple are less than 50 bucks.
Being as this is the first time we've reviewed the lower-end stuff, we thought we'd find a lot of junk that wasn't worth its weight in steel…and we did. A lot of the sets we looked at were so poorly built we wouldn't recommend them to anyone. Our hunt didn't go unrewarded, we were also pleasantly surprised to find a few diamonds in the rough. Let's take a look at what we found:
Victorinox 7-Piece Knife Block Set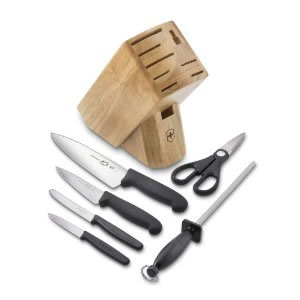 The Victorinox 7-piece knife block set comes with everything you need in a starter set of knives. You get  a 3-1/2-inch paring knife, a 4-1/2-inch tomato and bagel knife, 5-inch miniature chef's knife, 8-inch full-size chef's knife, a good sharpening steel, kitchen scissors, and an attractive hardwood block. All this for just under 60 bucks.
The blades are of good quality. They are made of high-carbon stainless steel that has been ice tempered so it will hold an edge. The handles aren't bad either. The Fibrox material feels good in your hand and the knives aren't too heavy, like some of the less-expensive sets tend to be. Victorinox is so confident in the quality of these knives, they're offering a lifetime warranty on them. This is one of the best budget kitchen knives deals we found. Click on the link below for more information:
Victorinox 7-Piece Knife Block Set
Victorinox Fibrox 3-Piece Knife Set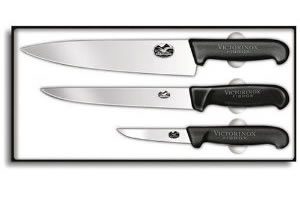 This is the set for those who are on a budget, but don't want to skimp on quality. The Victorinox Fibrox 3-piece Chef's knife set offers up three great knives for right around 60 dollars. You get a 4-inch paring knife, an 8-inch slicing blade, and 10-inch chef's knife, all stamped from cold-rolled stainless steel. This set also features the Victorinox lifetime warranty.
The reason Victorinox is able to offer this set of high-quality knives for so cheap is that they don't offer a storage block, kitchen shears or a sharpening stone with this set. It does come in an attractive box that makes this a good set to give as a gift. Click on the link below to get the best price on this set:
Victorinox Fibrox 3-Piece Knife Set
Ginsu Chikara 12-Piece Stainless Steel Knife Set with Block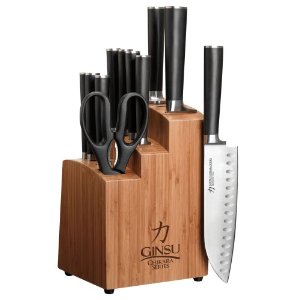 Rounding out the list is a set of knives that is perfect for those looking for a larger set. This set comes with a 3.5-inch paring, 5-inch serrated utility, 7-inch Santoku, 8-inch chef, kitchen shears and a sharpening rod. You also get four steak knives, a must for a family that eats a lot of meat. Ginsu knives feature high-carbon Japanese stainless steel and are world-renowned for their razor-sharp blades and ability to hold an edge.
These knives are forged instead of stamped and are the only set on this list that is dishwasher-safe. Click here to purchase this set for less than $100:
Ginsu Chikara 12-Piece Stainless Steel Knife Set with Block
Prior to going shopping, do a little research so you can be sure you're getting the best kitchen knife set.