The best bread knife is one that's inexpensive and will last a long time without dulling. Bread knives typically feature serrated edges and can't be sharpened without sending them back into the manufacturer. You can go one of two ways when it comes to this type of cutlery. You can either buy a good bread knife and send it back to the manufacturer when it needs to be sharpened or you can buy inexpensive knives and simply throw them out when they begin to dull.
Here's what I recommend. I advocate buying the best bread knife you can afford and using that day in and day out. The good knives will last a long time in between sharpening and you'll really appreciate how easy cutting bread becomes when you own a high-end knife. Use this knife until it starts to dull, then send it in for sharpening. The turn-around time is typically a week or two, but can be up to a month. You can either opt to tough it out for a month and use something else to cut bread or you can purchase an inexpensive bread knife to use in the meantime. I recommend the latter because it can be very frustrating trying to cut bread with a normal blade.
You don't have to invest a small fortune. The best bread knife will cost you less than a decent chef's knife from one of the top-tier cutlery companies. You can get a good one for less than 50 bucks. If you opt to buy a cheap knife to use while your good blade is away for sharpening, you can find a cheap one for around 10 dollars at your local Walmart or Target. Just be warned, this knife won't be nowhere near the quality of the one you're used to using.
We'll discuss the cheaper options in a moment, but if you want to go all out and get the number one best bread knife on the market today, the Shun Ken Onion Multi-Purpose 9-Inch Bread Knife
is the best bread knife money can buy. It's the knife that's pictured at the top of this article. If you didn't already click the link, click it and check it out. It's a great knife.
It has an innovative handle that works wonders for making even cuts in even the toughest breads. This level of beauty and craftsmanship doesn't come cheap. It's currently priced at around $220.
If the Shun Ken Onion knife isn't in your price range, don't worry. Next up is an option that clocks in at around a quarter of the price. You can get an Anolon Advanced Cutlery Slice and Carve Set
from Anolon that features an 8-inch bread knife and a carving knife for just over $40: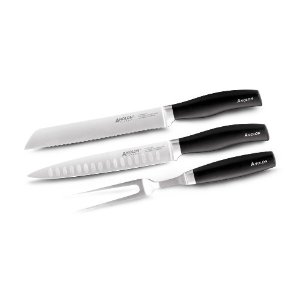 This is a good choice if you're on a budget and still want a good bread knife. Don't worry about quality. Anolon makes some of the better mid to low priced knives on the market. This is the best bread knife you can buy for less than $100.