Calphalon Contemporary Cutlery
Calphalon Contemporary Cutlery features superior strength combined with ergonomic handles designed for ease of use. This set of knives is a favorite amongst home cooks who want good quality at a mid-range price point.
Calphalon Contemporary Cutlery Specifications
The blades are hand-forged from German high-carbon stainless steel and feature a full-tang design.
The blades are hand ground to a perfect edge with a satin finish.
The steel is infused with Molybdenum and Vanadium to ensure maximum strength and stain-resistance.
The steel measures between 54 and 56 on the Rockwell Hardness Scale, the standard used to measure the hardness of metal.
The blade, bolster and tang are forged from a single piece of steel.
The tang extends all the way to the end of the handle in order to provide strength and rigidity.
Each handle is labeled with the knife type so you can see what knife you're about to pull out of the block
My Thoughts
These knives feel good and are sharp right out the box. Calphalon Contemporary Cutlery is a good compromise for those who want a higher-end knife set but just can't justify spending the big bucks a Katana, Shun or Global set commands.
It would be tough to find a better-balanced knife in this price range. The ergonomic handles feel good and are balanced well against the slightly heavy blade. I personally prefer a lighter Japanese blade, but can't complain at this price point.
One consideration potential buyers need to make is the fact that these knives have a thin blade with a fine edge. This means the edge is going to need to be touched up from time to time with a honing steel. It's not hard to do, but has led some owners to complain about edge retention. This isn't a flaw in the blade, it's par for the course for this class of knives.
Calphalon Contemporary Cutlery 17 Piece Knife Set
Go big or go home. This set is big enough to feature every knife you'll need in the kitchen. Here's what you get:
4 1/2″ parer
6″ utility
7″ Santoku
8″ bread
8″ slicer
8″ chef's knife
8 steak knives
kitchen shears
a steel sharpener
a 17-slot wood knife block
The 7-inch Santoku is the best knife in the set and quickly became my go-to blade. In fact, I could have completely done without the Chef's knife. The only time it saw any use was when my daughter helped me cut some veggies one night for dinner. Don't get me wrong, the chef's knife is good, the Santoku is just that much better. This set can be found for less than $200 at Amazon.com.
Click on the link below for more info on purchasing this Calphalon Contemporary Cutlery set:
Calphalon Contemporary Cutlery 17 Piece Knife Set German Steel
Calphalon Contemporary Forged Santoku Knife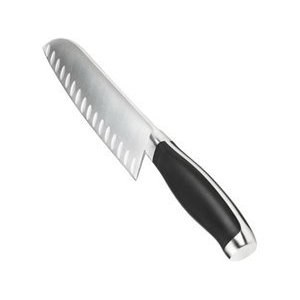 If you only purchase one Calphalon Contemporary Cutlery blade, this should be the one. There are two sizes available. The 5-inch knife will cost you a penny under 20 bucks and is a good knife. For ten dollars more you can get the 7-inch version, which is a knife that can be used to handle most kitchen cutting needs. I'd recommend spending the extra 10 dollars for the bigger knife, but it's up to you. Some people prefer a smaller, lighter blade.
Click on the link below to get the best prices on both blades. You can select the length of the blade you want in the box below the price:
Calphalon Contemporary 7-Inch Santoku Knife
You might just find you don't need another blade.